Winter/Festive 2012 Trend Report from Lakme Fashion Week
It's raining Fashion Weeks in India. The PCJ Delhi Couture Week is on as we speak and just last week we saw Gen Next and established designers come together for the 13th edition of the Lakme Fashion Week in Mumbai. The shows were a mix of luxe Indian ethnic wear for the bridal season and some inspired contemporary pieces. 

Here is a round-up of the biggest trends in cuts, silhouettes, colours and accessories that we saw at the Lakme Fashion Week and some my favourite pieces for Fall 2012.
Let's start stocking up for the new season already, shall we! 

Structured Cuts
Clean lines and pronounced shoulders were seen at Gen Next designers Aastha Sethi & Siddharth Arora's collection, Jatin Verma's Dark Angels and Aarti Vijay Gupta's collection.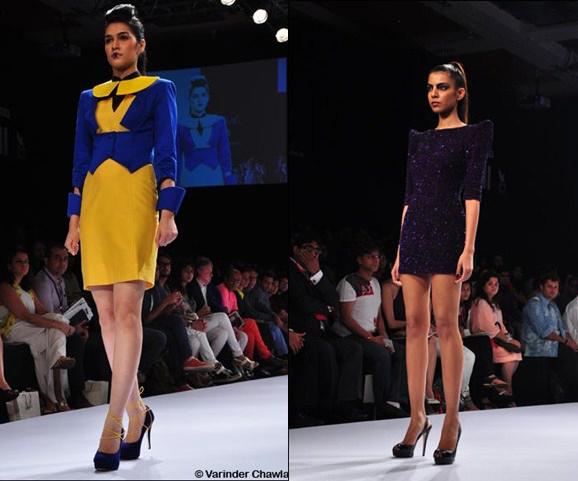 Colour Blocking
Colour blocking has been a key trend since the past few seasons and we saw Payal Khandwala playing with earthy toned separates and fluid fabrics in colour-blocked bright hues from Wendell Rodrigues.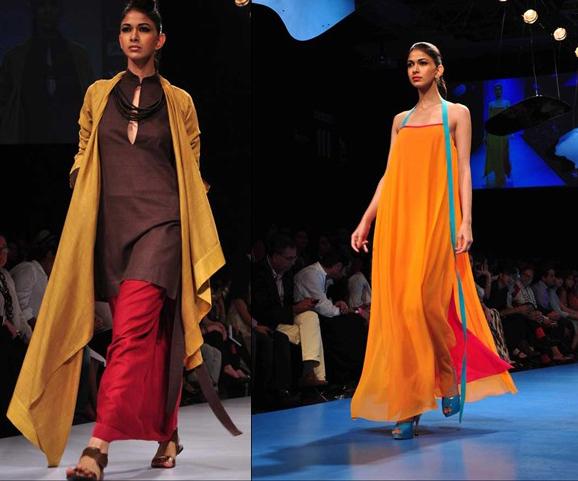 Layering
Layering separates to give the ensemble a new character came out as a hot new trend. Anita Dongre styled a pink jacket with a printed skirt and purple top. Payal Khandwala played with contrasting solid earthy hues. Printed maxis and separates from Debarun Mukherjee were layered with an emphasis on wear-ability and comfort.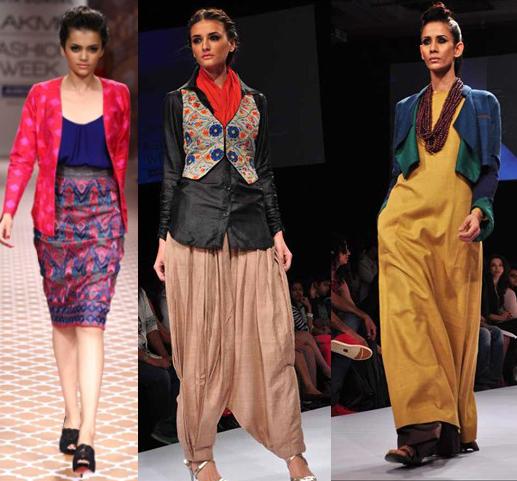 Warm and Bright colours
The colour palette swayed from bright citrusy yellows and oranges to dark purple and shades of blue seen in prints and one-tone. My favourites were Abhishek Dutta's futuristic tangram print on purple & grey , Wendell Rodrigues' hot pink, orange and blue flowy maxi and Surendri by Yogesh Kapoor's Bright Yellow Pac Man printed ensemble.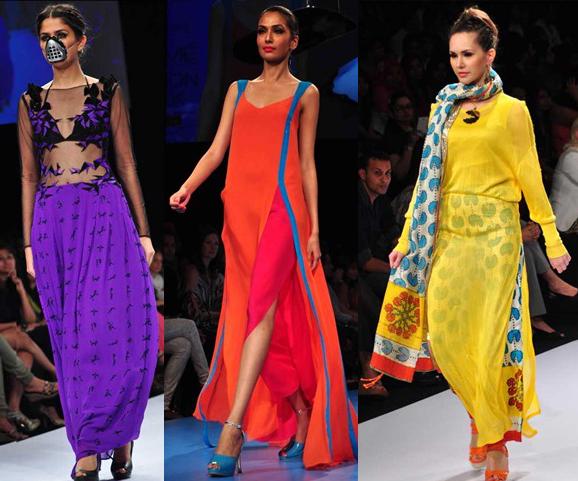 Prints
Eye-popping and bold experimental prints were everywhere. Fun Pacman print from Surendri by Yogesh Kapoor's collection and Aarti Vijay Gupta's Doodle print stood-out. Anita Dongre's Urban Goddess collection gave a contemporary twist to traditional weaves and prints in the colours of the season – orange and grey. Nupur Kanoi and Kallol Datta impressed with their printed creations.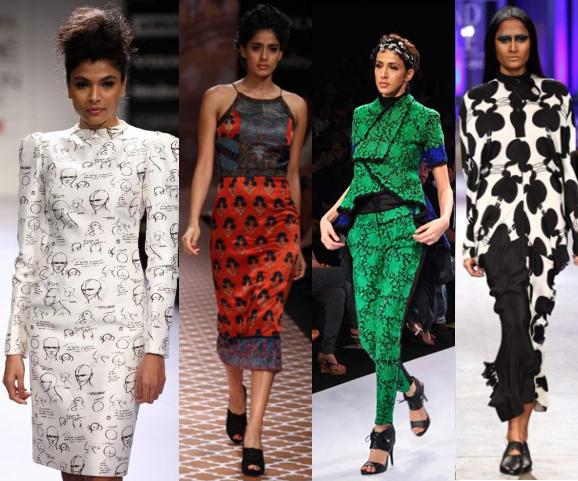 Jumpsuits & Maxi dresses
Jumpsuits and flowy Maxi dresses will rule Fall 2012 as was seen across collections like Wendell Rodrigues and Kallol Datta. The embellished Jumpsuit from Pia Pauro as seen on showstopper Monica Dogra and Archana Kocchar's take on the printed Maxi Dress stood out.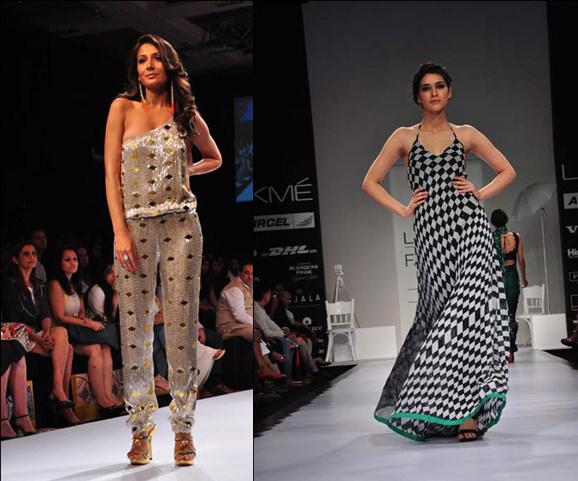 Accessories
The top accessory trend that came out of LFW was tribal inspired jewellery pieces (especially neck pieces) that can elevate any look by several notches. Invest in a great piece this season and remember to keep the rest of the look muted. Other trends include solid stoles as seen at Payal Khadwala's show, embroidered waistcoats from Debarun Mukherjee and bright hued peep-toes that were ubiquitous across collections.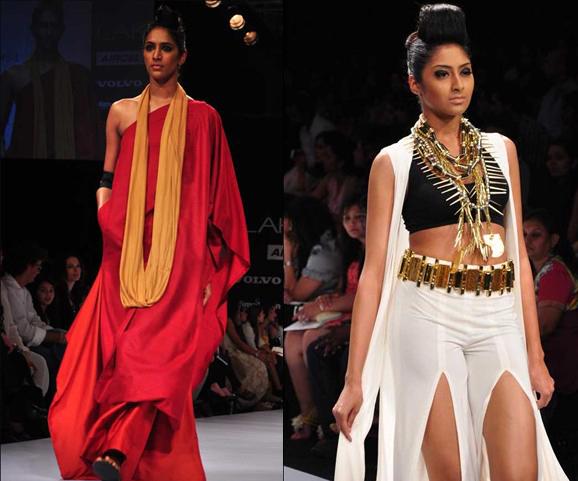 Bridal Wear:
No Fashion Week in India is complete without Bridal Wear. At LFW Shyamal and Bhumika impressed with their intricate embroidery and colour blocked heavy velvet pieces in deep tones of navy, maroons and gold. Neeta Lulla on the other hand kept her high-on-shimmer pieces earthy with oranges, ochre and brick red.
What were your favourite collections?
Remember to check out MSN Lifestyle's LFW Highlights slideshows.
Pritha Bhattacharya
Pritha is a prolific blogger who writes on varied topics of interest. She has been a part of the Indian Digital Media industry for more than 9 years working for brands like Yahoo! & Microsoft. A self-confessed fashion lover and a keen style watcher, join her as she explores and shares the latest in fashion & beauty trends.