Throwing my weight around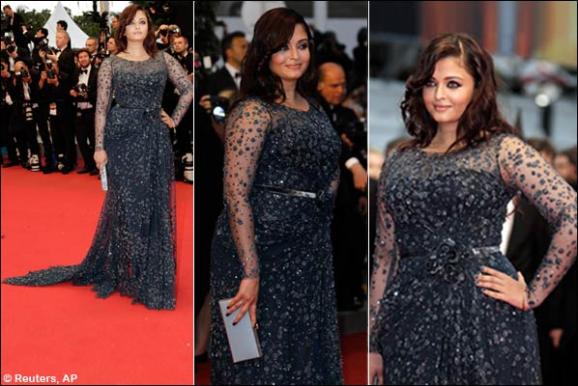 Women and weight have never been friends. So while pop-sensation Rihanna complained about being unhappy about her size zero (lucky her!), former Miss World and Bollywood actress, Bachchan bahu, Aishwarya Rai held it together on the international red carpet appearance, kept a straight face and told critics, world and women at large, how comfortable she was with her post-pregnancy weight and will take her time to lose it. (Read about it here http://lifestyle.in.​msn.com/exclusives/i​t/it_photoviewer.asp​x?cp-documentid=2501​64754). 
Even as Ash did that, news was abuzz about singer Beyonce dropping a whopping 60 pounds after giving birth to daughter Blue Ivy Carter. Joining the roll call on such 'weighty' issues was Bollywood actress Kareena Kapoor, who remarked that "Voluptuous is sexy, but fat is out. Any woman who says she doesn't want to be thin is talking nonsense. It's every girl's dream" (Read about it here http://lifestyle.in.​msn.com/exclusives/i​t/it_photoviewer.asp​x?cp-documentid=2501​73261) And of course, not to forget, the row between Grammy-award winning singer Adele and designer Karl Lagerfeld, after latter commented on the singer being "a little too fat", not so long back.
So in all this melee of whether fat is good or being skinny is in, where does a woman like me head to? Right to the middle of confusion I think, if there's a spot like that. So, as I read the Internet hungrily for latest on who lost it how (we are talking about weight folks!) or who piled it on, food companies come up with food supplements to aid weight loss or gain muscle strength, restaurants offer health diets or eight-course dinners, fashion brands flaunt skinny jeans or feel-good plus designs and fitness centers offer fabulous discounts to get washboard abs or gain-weight-the-righ​t-way regimes. The list of course is endless. 
And I as trudge through all of these, sometimes all at once, blowing up my hard-earned money and more than often putting my spouse in a spot, with the famous, most dreaded-question-by men, "Am I looking fat, honey?" , I grow weary with the weight of it all. 
So is there a solution to this, I often ask myself, as I oscillate between couple of kilos more to a few grams less. And I am offered this answer, by the wiser me in the mirror: "It's just one life. Eat and be merry. Or just worry." Happily, I choose the first option.  
Ipsita Basu Dasgupta
In the entire gamut of life, style and whatever in between, Ipsita loves to deconstruct the complicated and explore anything around her that is even remotely interesting. With a keen eye on the 'other side' of a story, she loves to ask difficult questions, but looks for simple answers. As a lifestyle writer, she has interviewed Bollywood stars, social butterflies and some incredible individuals, and loves the joy ride her media job offers.